Adult Orthodontics
Everyone deserves to smile with confidence. At Coast Family Dental we cater for adults who have a desire to improve their smile and provide a full range of treatment options. Orthodontics is one such option and can be a very effective method to achieve this desired result. Whether it is done on its own or…
Read More...
Children and Teen Orthodontics
Children and Teen Orthodontics At Coast Family Dental we offer a comprehensive, balanced and full range of orthodontic treatment options for your child. We do not subscribe to the 'one size fits all' treatment modality and believe each orthodontic treatment option has its merits when selected for the appropriate case. Early intervention Orthodontics The aim…
Read More...
Emergency Treatment
At Coast Family Dental our team is here to help you during a dental emergency whether it be for a toothache, broken tooth or lost filling right before an important event. We have dedicated daily emergency appointments to help you in need. We also operate 6 days per week and have extended late night…
Read More...
Sedation Dentistry (IV sedation)
At Coast Family Dental Currimundi, we understand that going to the dentist may bring up bad past experiences and fears relating to dental treatment. Our dentists at Coast Family Dental Currimundi are proud to be able to offer general and advanced dental treatment with a gentle approach. We care about you and understand that you…
Read More...
Teeth Whitening
At Coast Family Dental Currimundi, we understand how important it is to have a bright smile. There are many reasons you may wish to have your teeth whitened, as over time certain foods and drinks (tea and coffee, curries, red wine, soft drinks, smoking etc) can cause discoloration of our teeth. Our friendly dentists and…
Read More...
Bridges
A dental bridge is used to "bridge" the gap between one or more missing teeth. A bridge is usually made up of two crowns that sit on each tooth on either side of the gap, and these two crowns are attached to another full tooth shaped crown which sits in the gap where the missing…
Read More...
Sleep Apnoea
Sleep is the basis of good health. Sleep allows our body and mind to rejuvenate and recover. Obstructive Sleep Apnoea (OSA) and Snoring are sleep-related disorders. Over time they can have a significant impact on your health and wellbeing. What is Obstructive Sleep Apnoea?If you are diagnosed with Obstructive Sleep Apnoea your airway periodically closes…
Read More...
Dental Implants
A Dental Implant is one option for the replacement of missing teeth. A Dental Implant is a man-made tooth root consisting of titanium or ceramic. The dental implant is skilfully placed below the gum in the jawbone by one of our highly trained dentists. With time our bone grows onto the surface of the dental…
Read More...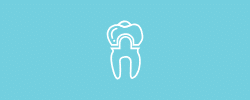 Crowns and Veneers
A crown or a veneer may be required when a filling is not suitable enough to save your tooth. A dental crown is a tooth-shaped "cap" that is placed over a tooth to cover it and restore its strength, size, shape, and appearance. It is usually made out of a ceramic material, and therefore this…
Read More...
Kids Dental
At Coast Family Dental Currimundi, we offer treatment under Medicare's Child Dental Benefits Schedule (CDBS) for eligible children (children aged 2 to 17 years that are of families receiving Family Tax Benefit Part A or other Government payments). Eligible children can get up to $1000 worth of general dental treatment (including checkups, x-rays, preventative fissure…
Read More...
Wisdom Teeth
Wisdom teeth are usually the last teeth to come through the gums, in most people, they erupt in the late teens or twenties. In many cases, when wisdom teeth begin to erupt, there is not enough room in the jaw for them to all emerge. Consequently, a number of complications may arise causing pain, infection,…
Read More...
Root Canal Treatment
When bacteria reach the nerve of a tooth, sometimes a simple filling is no longer suitable to treat the problem. The options may be to either remove the entire tooth or if you prefer to keep the tooth than a Root Canal Treatment may be suitable. A root canal treatment allows you to keep the…
Read More...
General dentistry
General dentistry is the name given to cover a wide range of procedures. This may include the initial consultation and diagnostics such as x-rays, as well as many common procedures that are offered by our general dentists including fillings, extractions, cleans, root canal treatments, crown, bridge, veneers, and dentures. At Coast Family Dental Currimundi, our…
Read More...